Home
Spacious and Comprehensively Equipped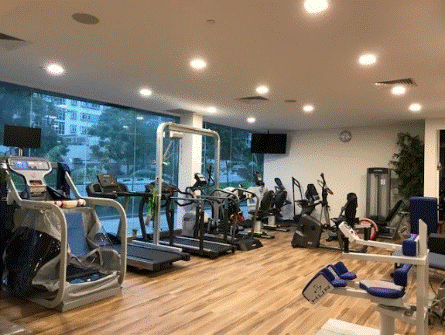 United Rehabilitation and Physiotherapy Centre has a comprehensively equipped state of the art therapy area, medical-grade gymnasium, modalities and program to practice evidence-based allied health therapies and rehabilitation.
The centre is spacious, lively and vibrant and we are a team of workers who emphasize good care with dignity.
The range of medical-grade equipment includes upper limbs, abdominal, truncal and lower limb resistance equipment, upper and lower limb ergometers, unweighting treadmills, state of the art gait training equipment, balance program, brain activities, a range of free weights and balance training.
The range of modalities for pain relief such as cryotherapy, heat and electrophysical therapy.
Spinal traction for neck and back issues is also available.
Our Equipment
Lokomat is a robotic medical device that provides highly repetitive and the most physiological gait training – especially to severely impaired patients.
During early rehabilitation, high-repetition gait training ensures the optimum utilization of neuroplasticity and recovery potential. Robotic therapy enables very intensive training, which is crucial during this phase. Scientific evidence shows that in contrast to conventional therapy alone, robot-assisted gait training improves the chances of regaining independent walking after a stroke.
AlterG Anti-Gravity Treadmill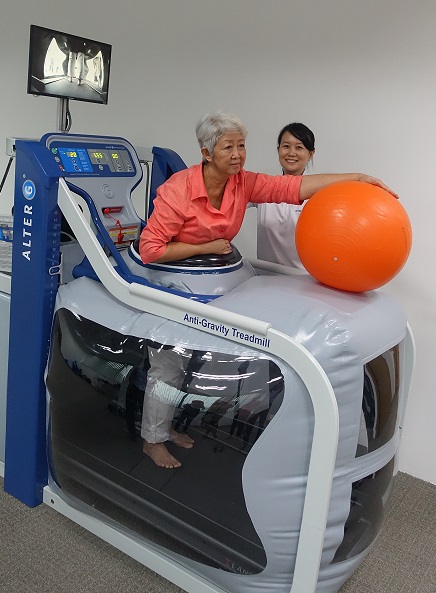 Alter G Anti-Gravity Treadmills are used widely in many leading medical and rehabilitation centres such as Changi General Sports Medicine Centre (Singapore), Cleveland Clinic, National Rehabilitation Centre and the US Olympic Training Centers. The high technology treadmill developed by NASA, allows precise unweighting or partial weight-bearing therapy. With its precise weight reduction in one percent increments to as low as 20 percent of the patient's body weight, "weight bearing as tolerated" is more objective or measurable. Alter G promotes normal gait patterns during the early phase of physiotherapy and rehabilitation. Physiotherapists can prescribe closed kinetic chain movement as early as possible to maintain muscle strength, balance and joint flexibility without pain or strain to the healing bone, joint or soft tissue.
Unweighing System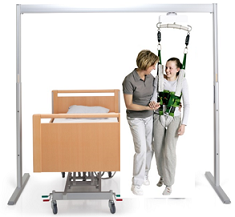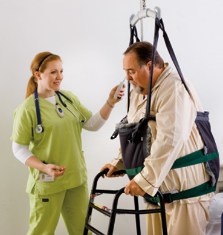 Unweighing system allows body weight to be supported for physiotherapy and rehabilitation. With the body weight safely supported, patients who are not able to stand or walk independently can be trained to do so. The system minimizes anxiety and prevents falls of the patients, thus encourages early gait training. The system also minimizes therapist's effort to lift patient. Instead therapist is free to manually guide patients for training of desired movements.
Medical Grade Gymnasium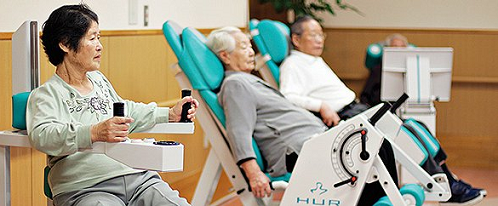 HUR exercise equipment was designed based on leading universities' physiology and biomechanics research. The technology allows patients with early symptoms such as weakness and poor range of motion, to exercise with low impact and resistance. The equipment are suitable for all user group, from elderly to athletes as the resistance starts from very low resistance (close to zero resistance), increment of ¼ lbs and to high resistance (more than 20kg).
Passive, assisted and resisted ergometer via MOTOmed for upper and lower limbs allow the treatment of paralysis, spasticity, weakness and lack of movement.
Spinal Traction (Neck and Back)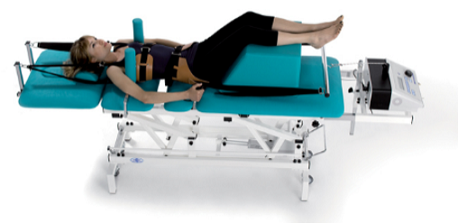 Spinal Traction (Neck and Back) unloads and reduces the pressure on the spine, relieving pain in the neck and back. The unloading of the spine improves biophysical effect of the pinched tissues and results in pain relief, numbness and other symptoms.
Cardiovascular Equipment
Cardiovascular equipment using Life Fitness Cardio Line is essential to muscle strengthening.
Electrophysical Modalities
Electrophysical Modalities such as ultrasound, TENS, EMS, Interferential and IF help to speed up tissue recovery, improve muscle tone or movement and relieve pain or inflammation.
Falls Prevention
Falls Prevention with HUR gym and Kinect Balance System allows the patient with weakness and/or elderly patients who have risk of fall, functional strength and balance training. Muscular strength and body balance are directly related to functional ability and safety during tasks.