*** Introducing Robotic Rehabilitation at United Rehab - Lokomat!***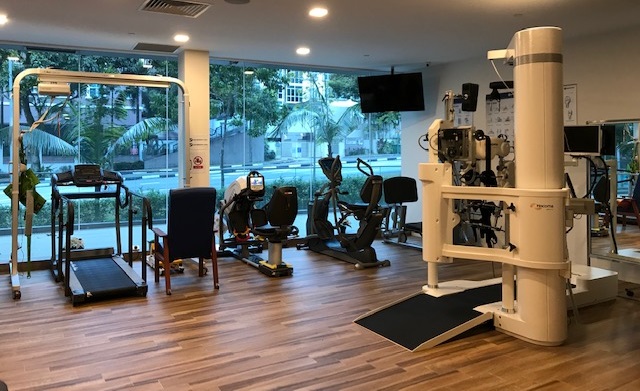 Robotic Gait Rehabilitation (Lokomat) is now available at United Rehabilitation and Physiotherapy Centre. Lokomat is a highly intensive robot-assisted physiological gait rehabilitation for severely impaired neurological patients.
We are in fact the first private rehab centre in Singapore equipped with Lokomat. Call us at 64650848 to know how Lokomat can help your loved ones.
Please click here for more information on Lokomat @ United Rehab
*** Vist Us At Our New Centre!***
Address: 182 Jalan Jurong Kechil, #01-68, The Hillford, Singapore 596152
Who Are We?
United Rehabilitation and Physiotherapy Centre (United Rehab) is an allied health rehabilitation centre in Singapore where allied health professionals such as Physiotherapists (PT), Occupational Therapists (OT) and Speech Therapists (ST) work to improve the functional outcomes and quality of life of people suffering from pain, injuries, functional limitations and/or disabilities.
Our centre provides services for clients who require specific therapy such as neurological, sports, orthopaedics, geriatric and musculoskeletal physiotherapy, occupational therapy and speech therapy.
We serve clients ranging from athletes with sports injuries, individuals with neurological problems, to those who need continuing therapy after being discharged from a hospital.
We have registered, experienced and dedicated allied health professionals to maximize clients independence.
Our Mission
Contribute to the quality of life of individuals through the provision of specialized rehabilitation or therapy programs, and maximize independence of individuals with the use of technology
The United Team
United Rehabilitation offers experienced therapists who are all fully registered with Allied Health Professional Council:
Registered Physiotherapists
Registered Occupational Therapists
Registered Speech Therapists
Registered Nurses
Our professional team promises to give premium, comprehensive, holistic and quality but affordable therapy programs to our clients.
We work closely with clients' specialists or doctors with regular reviews and updates, to ensure safe and optimal outcomes. We listen to concerns and communicate the best we can with clients and their family for direct client care.