Home
Lau Ai Ni
Founder and Lead Principal Physiotherapist
AHPC Reg. No. A1300099Z
Master of Physiotherapy (Australia)
Postgrad Diploma in Biomechanics (UK)
Diploma in Physiotherapy (Singapore)
MSPA

Ai Ni is the Principal Physiotherapist and Director of United Rehabilitation and Physiotherapy Centre. She has 21 years of working experience in physiotherapy and rehabilitation.
Ai Ni is a registered Physiotherapist (Full Registration) under the Allied Health Professions Council, governed by the Allied Health Professions (AHP) Act 2011.
Ai Ni was a senior physiotherapist in various restructured, community-based and private hospitals, namely, Tan Tock Seng Hospital, Changi Sports Medicine Centre as well as Gleneagles Hospital. She has also worked in private clinics, served a teaching stint in Nanyang Polytechnic (NYP) and given house calls to treat and rehabilitate patients from injuries or illnesses.
She has also participated in research and was principal investigator in several research projects which she presented in scientific meetings both in Singapore as well as abroad. She also organized many public forums and workshops for organizations and companies.
After graduating with a Diploma in Physiotherapy from Nanyang Polytechnic in 1995, Ai Ni continued to earn her Postgraduate Diploma in Biomechanics (UK) in 2000 and a Master Degree in Sports Physiotherapy (Australia) in 2001. She was also a certified Exercise Specialist from the America College of Sports Medicine (ACSM). In 2003 Spring Singapore and NHG awarded her with gold and service champion awards for being an excellent healthcare service provider.
In the recent years, Ai Ni dedicated her work to home physiotherapy, and her patients are primarily with neurological and orthopaedic conditions.
Ai Ni is passionate about improving people's lives by empowering them to take control of good health as well as using technology to improve medical conditions. Her enthusiasm in clinical care and outcome is what she takes great pride in, and it is with such passion that she founded the United Rehabilitation and Physiotherapy Centre.
Ruth Chia
Beatrice Teo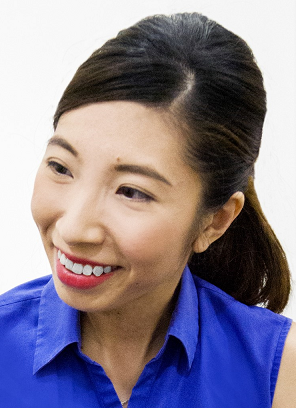 Senior Speech Therapist
AHPC Reg. No. A1301433H
Bachelor in Speech Pathology (Australia)

Beatrice graduated with a bachelor in Speech Pathology from La Trobe University, Melbourne and she has many years of experience working in National University Hospital (NUH) and Gleneagles Hospital with both adult and paediatric patients.
Beatrice is a dedicated Speech Therapist who is passionate about helping her patients improve and recover. Driven by determination to help her patients improve, Beatrice combines traditional therapy techniques with new evidence-based approaches to tailor the best treatment plan for her patients. She treats all her patients genuinely and provides them with the best care.
Beatrice provides regular nursing training to ensure nurses are equipped to manage patients with speech and swallowing difficulties. She is accreditated/certified in Fiberoptic Endoscopic Evaluation of Swallowing (FEES), Videofluroscopy (VFS), Vitalstim Therapy, Lee Silverman Voice Treatment (LSVT) and Estill Voice Training.
Physiotherapist Associate


Chiang Hui Rou
Physiotherapist Associate



Note: Physiotherapist Associates assist registered Physiotherapists in delivering physiotherapy services. They are not registered with the Allied Health Professions Council.